Hello. Welcome to Matt Karls' Dodge Mod website

This website is for people that have a love for all things Mopar.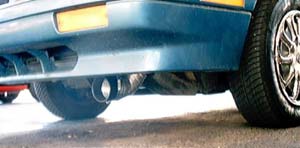 This website will mainly focus on mods and projects for 2.2 L Naturally Aspired Engines.
Quad Ram Air


Ram Air Project
My Ram Air Project has been a real success, I've gone through four final designs, and I currently am using a quad ram air with great results.
2.2L Air Box


Sealed Air Box Modification
After my Ram Air Project I realized that 3/4 of my gains were being wasted with the awful air box in the 2.2L NA intake system, so I modified the air box.
Intake Manifold


Intake Manifold Coolant Bypass Modification
This modification bypasses the engine coolant lines so that they do not heat up the intake manifold.
Water Injection


Water Injection Project
Originally it was a water induction project, but it has now turned into a water injection system. This is my current ongoing research, modeling and design project.